A Map for the Future 2012 was written by Associate Professor Kitty te Riele of Victoria University. It analysed data on 400 programs with 33,000 young people enrolled in 1200 locations across Australia.
This work, in turn, was based on the national survey of programs undertaken by the Dusseldorp Skills Forum in 2011, also available at dusseldorp.org.au
Since the report was published, government policy impacting on Alternative Learning has substantially changed throughout Australia's states and territories. This shifting terrain was the impetus for the Map's relaunch including policy updates from across the country, put together by researcher Ann Deslandes based on Te Riele's original work.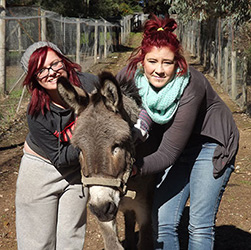 "All the states and territories are slightly different," explains Dusseldorp Forum's senior researcher, Ani Wierenga. "Brilliant work is being done by Alternative Learning organisations, but each of the states and territories have different policies.  These can be understood as local ecosystems that support programs differently. Our role is in supporting this community of practice with information, research and communications, as well as providing some greater visibility for their work."
In navigating and mapping the latest policy changes, this paper aims to continue supporting the excellent and varied Alternative Learning work throughout Australia.
A Map for the Future 2014: policy update (233 kB)
Learning Choices: A Map for the Future 2012 (573.79 kB)
Photographs: (above left) Dylan writing lyrics on the Delta Motion Program as part of the Adelaide-based WAVE program; (above right) Two participants on the alternative learning program WAVE, leading a donkey on a community-based learning excursion; (below) WAVE participants take a break from hiking on Operation Flinders.
A Map for the Future 2014: policy update (233 kB)